Vana Tulsi Powder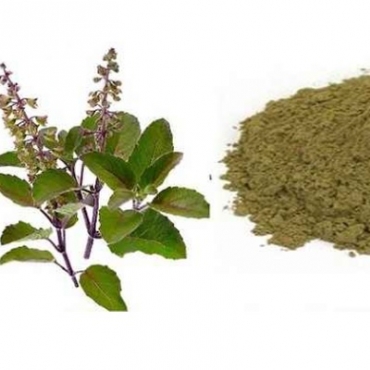 Vana Tulsi is another variety of holy Basil, a perennial, woody bush type of plant. Basil grows up to 2 meters high with slightly hairy green leaves. It has a highly aromatic, with a strong clove scent, and spicy flavor. Holy basil is native to the Indian subcontinent and grows throughout Southeast Asia in abundance.
Tulsi leaves or holy basil, also known as the "Queen of Herbs" is full of medicinal properties and great benefits. Our Vana Tulsi powder treats many common ailments. Furthermore, by regular intake of daily Tulsi Vana powder, you can promote hair growth, good health, and hair volume with zero harmful effects on the individual. At Matha Exports, you can buy organic and quality-enriched organic herbal which is 100% natural powder.
The many health benefits of the Vana Tulsi Powder are as follows:
Vana Tulsi powder treats acne, skin infections, lighten dark spots, and improve skin outlook.
Vana Tulsi powder can stop graying of hair and help keep it black.
Vana Tulsi powder prevents dry scalp and dandruff, by moisturizing it.
Vana Tulsi powder is a natural ingredient that aids weight loss.
Vana Tulsi powder will protect the body from premature ageing.
Vana Tulsi powder is known to help regulate and lower high blood pressure.
Vana Tulsi powder has hypoglycemic properties, which helps lower blood sugar levels and prevents complications of diabetes.
Quality: Our focus on quality is par excellence. We test our products for long term, general side effects. We've found that there are no side effects when it comes to the general population, men and women, who have been using our line of products over the last 25 years. Read More
Packaging: We currently provide pack sizes that are 50 gms, 100 gms, 500 gms, 1 Kg, 10 Kg, 15 Kgs, 20 Kgs, 50 Kgs, and also provide larger bags in bulk quantities in accordance with your needs. Read More
Private Labeling: To get your new business started and going, make sales, we can help you with our affordable full service Design, Labeling and Packaging your selection of products with us. Read More
Ask us about our Oxo-Biodegradable Plastic bags that are 100% eco-friendly. We can vacuum pack products for freshness upon clients' requirement only.