Amla Hair Oil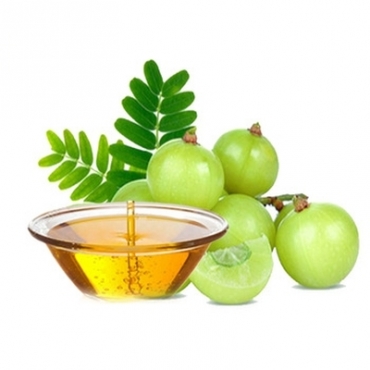 Matha Exports carries a variety of herbal oils and hair products. Amla hair oil is one such oil which is quite popular in demand. There are various health benefits to using Amla hair oil. First, it nourishes the scalp and hair roots, it rejuvenates the hair follicles, within a day or two of starting to use this oil.
Amla is a fruit with high vitamin C content and hence the oil also gets this property. Amla oil helps produce collagen protein to strengthen your hair follicles. This increases hair growth, both length and volume wise. The oil has natural antioxidants, flavonoids and polyphenols in plenty that improves the health of your scalp by increasing blood flow. Amla oil can be applied 1 to 2 hours before taking a bath. It can also be applied lightly after taking a bath to prevent your hair from drying out, and to help restore the natural oils in your hair.
Ayurvedic practitioners have been using Amla oil for hundreds of years. They believe that Amla herbal oil can promote hair growth, reduce dandruff, and prevent the premature graying of hair. When used for scalp and hair treatments, Amla oil strengthens and conditions hair follicles starting from the roots. Amla hair oil reduces the premature pigment loss from the hair preventing the early onset of grey, thereby keeping you looking youthful longer.
At, Matha Exports, Amla Hair oil is rightly prepared with great care, using 100% natural ingredients.
The features of Amla herbal hair oil are listed below:
Amla oil when massaged into scalp, creates stimulation and blood flow.
Amla herbal oil restores scalp health and reduces infections and itchiness of scalp.
Amla herbal oil is rich in phyto-nutrients, vitamins, and minerals which help increase blood circulation to the scalp and helps healthy hair growth.
The potency of Amla herbal oil prevents parasitic lice infections.
Daily uses of Amla hair oil can strengthen the roots of the hair.
It is high in Vitamin C and natural antioxidants which help darken hair naturally.
Promotes hair growth within a couple of weeks.
Amla herbal oil helps strengthen and condition the hair follicles from the roots upward.
Amla hair oil reduces the premature pigment loss from the hair preventing the early onset of grey.
Quality: Our focus on quality is par excellence. We test our products for long term, general side effects. We've found that there are no side effects when it comes to the general population, men and women, who have been using our line of products over the last 25 years. Read More
Packaging: We currently provide pack sizes that are 50 gms, 100 gms, 500 gms, 1 Kg, 10 Kg, 15 Kgs, 20 Kgs, 50 Kgs, and also provide larger bags in bulk quantities in accordance with your needs. Read More
Private Labeling: To get your new business started and going, make sales, we can help you with our affordable full service Design, Labeling and Packaging your selection of products with us. Read More
Ask us about our Oxo-Biodegradable Plastic bags that are 100% eco-friendly. We can vacuum pack products for freshness upon clients' requirement only.