Lemongrass Powder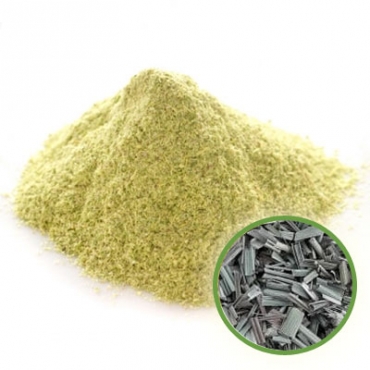 Lemongrass is a tall tropical wild grass. Its leaves and tender stalk are harvested and dried, then powdered and sifted to a fine powder. Countries like India, Indonesia, Malaysia, Sri Lanka, and Thailand have been using Lemongrass stalk and powder from this stalk for their poultry and meat stews. It is used in herbal tea as well. The lemongrass plant is a herbal plant which offers many health benefits. Lemongrass powder has vitamins A and C, which help boost skin tone levels. They help keep your skin looking vibrant and your hair glossy. This powder can be applied externally and taken internally used in teas, soups, stews, or curries. Lemongrass Powder can be mixed with Aloe Vera Pulp and Fuller's Earth Powder (we carry this) to make a good, healthy and beneficial face mask, or to apply on the scalp for rich hair health benefits.
The many health benefits of Lemongrass Powder are as follows:
Lemongrass powder can be used as a paste to apply on the scalp as a great conditioner.
It helps minimize hair loss by regularly coating your hair with its paste.
It is a good diuretic, health tonic and stimulant to help blood circulation.
It helps reduce menstrual pain, nausea, and replaces nutrients in the body.
It helps break a fever when taken as a warm, herbal tea.
Applied as a face mask it can help treat oily skin conditions, and breakouts like acne.
The lemongrass powder can be mixed in hot water along tea leaves. The powerful antioxidants helps boost skin radiance, and helps detoxify your body.
Lemongrass powder has astringent properties which helps cleanse your pores of impurities.
Lemongrass tea helps flush out the kidneys by producing more urine.
Lemongrass powder has anti-fungal and anti-viral properties which are beneficial to hair, the scalp and the body.
Product Uses: Food, Drinks, and Cosmetics flavoring Agent, Tablets, Capsules, Lemongrass Tea, Essential Oil, Spice Powder, Dehydrated sliced Stalk, Mosquito and Bug repellent.
Quality: Our focus on quality is par excellence. We test our products for long term, general side effects. We've found that there are no side effects when it comes to the general population, men and women, who have been using our line of products over the last 25 years. Read More
Packaging: We currently provide pack sizes that are 50 gms, 100 gms, 500 gms, 1 Kg, 10 Kg, 15 Kgs, 20 Kgs, 50 Kgs, and also provide larger bags in bulk quantities in accordance with your needs. Read More
Private Labeling: To get your new business started and going, make sales, we can help you with our affordable full service Design, Labeling and Packaging your selection of products with us. Read More
Ask us about our Oxo-Biodegradable Plastic bags that are 100% eco-friendly. We can vacuum pack products for freshness upon clients' requirement only.