Triphala Powder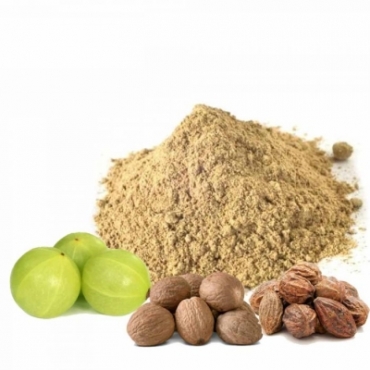 Triphala powder, is called the "nectar of life." It is three fruit powders in one, dehydrated and powdered, these fruits are Amla, Haritaki, and Bibhitaki. The herbal goodness of this mixture helps to detoxify, cleanse, and rejuvenate the body. Triphala powder is a traditional Ayurvedic formulation, one of the world's most potent herbal remedies, that has become extremely popular all over the world with its amazing healing powers. At Matha Exports, Triphala Powder is produced and manufactured with natural nutrients. Triphala powder helps strengthen the immune system preventing all kinds of diseases. Triphala means "three fruits."
Triphala powder has shown to be effective in controlling diabetes, has powerful and vital antioxidants to fight radical elements, and helps brighten the skin, plus helps in genuinely improving digestive health. The natural organic compounds found in these fruits will help repair damaged hair and increase hair volume.
The many health benefits of the Triphala powder are as follows:
Helps in controlling diabetes which boosts overall health of your body.
It improves the digestive system, removing constipation issues and sluggishness.
It helps in weight-loss strategies and enhancing general body health.
It has beneficial effects on the eyes by improving vision tremendously.
It has antibacterial and antifungal fighting power which acts on the scalp.
Triphala powder can reduce dandruff which allows for healthy hair growth.
Taking Triphala powder regularly helps in the natural internal cleansing of the intestines.
Triphala powder helps nourish sore and aching muscles and rejuvenates body tissues.
Made from the highest quality organic Triphala powder, Matha Exports' traditional formula helps gently maintain regularity of stools, preventing constipation, cleanse the colon, supports a healthy digestive system, and promotes better food absorption into the bloodstream. These health benefits can be experienced in 3 days to a week. Triphala powder has all the natural goodness to become a great part of your daily health routine.
Ayurvedic medicine, however, recommends taking the Triphala powder for at least 4–6 weeks to allow the time to assimilate the herbal goodness of these three fruits in your body's tissues. Start with one teaspoon, the smallest recommended amount, and slowly increase to as much as 2 tablespoons in a few weeks.
Quality: Our focus on quality is par excellence. We test our products for long term, general side effects. We've found that there are no side effects when it comes to the general population, men and women, who have been using our line of products over the last 25 years. Read More
Packaging: We currently provide pack sizes that are 50 gms, 100 gms, 500 gms, 1 Kg, 10 Kg, 15 Kgs, 20 Kgs, 50 Kgs, and also provide larger bags in bulk quantities in accordance with your needs. Read More
Private Labeling: To get your new business started and going, make sales, we can help you with our affordable full service Design, Labeling and Packaging your selection of products with us. Read More
Ask us about our Oxo-Biodegradable Plastic bags that are 100% eco-friendly. We can vacuum pack products for freshness upon clients' requirement only.