Senna Leaves Powder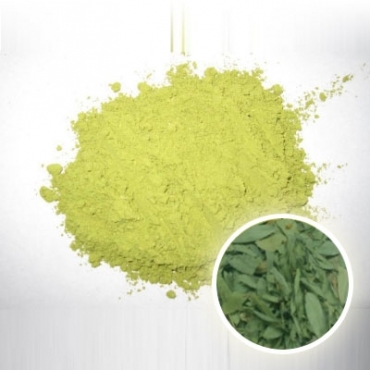 Senna leaves powder (Cassia Angustifolia) is derived from a shrub that is found in the desert regions of North Africa, India, and parts of Asia. Senna Alexandrina is also known under the names Egyptian Senna, Tinnevelly Senna, East Indian Senna or the French séné de la palthe. Cassia Angustifolia is the apothecary term for this plant. It received the names "Alexandrian Senna" and "Egyptian Senna" because Alexandria in Egypt was the main trade port in past times. The fruits and leaves of this plant were transported from Nubia, and Sudan to Alexandria, and across the Mediterranean sea to Europe and adjacent Asia.
It is an FDA-approved nonprescription laxative. Senna tea can be sweet but can have strong bitter undertones. You can mix honey to the Senna tea to sweeten it. If you have any disease of the organs, please consult your doctor before taking this product. This applies to all our other powders as well. Take only the recommended dosage which is 1 teaspoon per day.
The many health benefits of the Senna leaves Powder are as follows:
It provides a natural shine to hair, strengthens hair roots, shaft and helps thicken the volume of your hair.
It can be mixed with Amla powder to condition and massage the scalp.
Senna powder has been used as a laxative for thousands of years. It helps with regular and healthy bowel movement.
It encourages bowel movement.
It aids in reducing the bloating feel in your stomach and also helps with weight loss.
It can help relieve Irritable Bowel Syndrome and Hemorrhoids.
It's not safe to be used by pregnant women.
Product Uses: Powder, Paste, Extract, Capsules, Tablets.
Quality: Our focus on quality is par excellence. We test our products for long term, general side effects. We've found that there are no side effects when it comes to the general population, men and women, who have been using our line of products over the last 25 years. Read More
Packaging: We currently provide pack sizes that are 50 gms, 100 gms, 500 gms, 1 Kg, 10 Kg, 15 Kgs, 20 Kgs, 50 Kgs, and also provide larger bags in bulk quantities in accordance with your needs. Read More
Private Labeling: To get your new business started and going, make sales, we can help you with our affordable full service Design, Labeling and Packaging your selection of products with us. Read More
Ask us about our Oxo-Biodegradable Plastic bags that are 100% eco-friendly. We can vacuum pack products for freshness upon clients' requirement only.