Ubtan Face Mask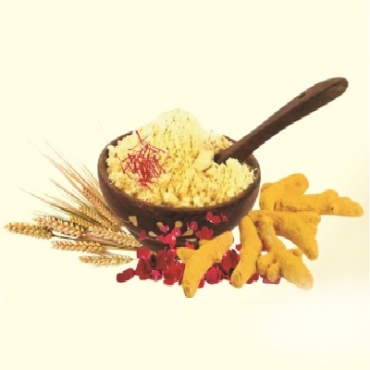 The Ubtan face mask is very popular and trending. This Ubtan facemask paste is made using Turmeric, Gram flour (Besan), Sandalwood powder (Chandan), Rosewater, and Milk. It is believed to provide a flawless skin and a radiant, glowing complexion. The age old and trusted Ayurveda practitioners, who have relied on herbal remedies for thousands of years, highly recommend the use of the Ubtan facemask. Traditionally, the Ubtan facemask paste is the oldest and purest type of cosmetic in the world. The Ubtan paste is carefully processed from very simple 100% natural ingredients, at our processing center, resulting in the highest quality face pack available on the market today.
Ubtan is actually a face mask that helps to increase skin beauty tremendously with its rich natural ingredients that provides effective skin lightening, toning, and nourishment. This herbal organic Ubtan powder is prepared by an experienced lab team at Matha Exports. This product is carefully blended in a formulated ratio which provides you with a vibrant, natural appearance. It is the secret to good looking, young skin.
The features of the Ubtan herbal face mask are as follows:
It keeps the skin fresh and moist, increasing the skin's healthy appearance.
When applied two or three times a week, it results in a glowing and smooth skin tone.
Ubtan also helps in exfoliating and removing unwanted hair from the face.
If the Ubtan facemask paste is applied five times a week, it helps tighten the skin pores and make the skin look really healthy, vibrant, and young.
It helps refine skin pores, remove acne, and blackheads.
It helps with skin softening and removing dark spots.
Increases intense hydration to your skin by moisturization.
Benefits of using a face mask:
Our face masks are a chemical free face care remedy.
Helps to reduce pimple, scars, and acne marks.
The face mask absorbs unwanted oil from the skin and opens up clogged pores.
Helps to cleanse skin layers by removing the dead skin cells from the surface.
Helps to lightening the skin tone by shades in a matter of weeks.
A face mask makes the skin look young, vibrant, and healthy.
It helps to boost up the flow of oxygen and blood circulation to the outer skin.
It helps in regaining the elasticity of the skin by making it firmer.
It effectively deals with the problems of sun tanning.
Quality: Our focus on quality is par excellence. We test our products for long term, general side effects. We've found that there are no side effects when it comes to the general population, men and women, who have been using our line of products over the last 25 years. Read More
Packaging: We currently provide pack sizes that are 50 gms, 100 gms, 500 gms, 1 Kg, 10 Kg, 15 Kgs, 20 Kgs, 50 Kgs, and also provide larger bags in bulk quantities in accordance with your needs. Read More
Private Labeling: To get your new business started and going, make sales, we can help you with our affordable full service Design, Labeling and Packaging your selection of products with us. Read More
Ask us about our Oxo-Biodegradable Plastic bags that are 100% eco-friendly. We can vacuum pack products for freshness upon clients' requirement only.