Mulethi (Licorice) Powder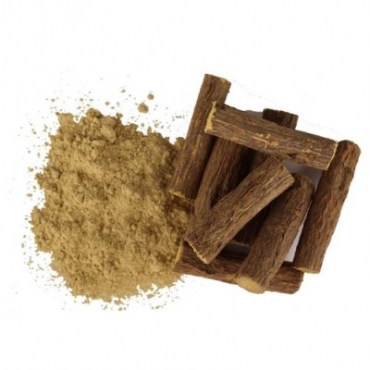 Mulethi is an age-old herb that has been used for its exceptional health promoting properties, it also known as licorice. This powder is 100% herbal and has only natural ingredients. This powder is extracted from the original licorice plant. The features of the Mulethi powder make it one of the unique ingredient and product in the world of herbal content in beauty products. Mulethi or Licorice root powder has a good reputation as being helpful for soothing sensitive skin with irritation, allergies, or itching sensation.
The many health benefits of the Mulethi powder are as follows:
It is 100% herbal and is prepared from natural extracts.
This improves the health of the respiratory tracts and clears congestion, and eases breathing problems.
Mulethi powder boosts digestion and helps in curing skin ailments.
Mulethi powder helps strengthen the hair roots and increases the growth of the hair.
The anti-inflammatory properties of the Mulethi powder when mixed in the henna provides protection against the hair loss.
Mulethi powder eases menopausal symptoms in women and removes discomfort caused due to pain.
At Matha Exports, you can buy Mulethi powder in custom pack sizes that fit your requirements.
Quality: Our focus on quality is par excellence. We test our products for long term, general side effects. We've found that there are no side effects when it comes to the general population, men and women, who have been using our line of products over the last 25 years. Read More
Packaging: We currently provide pack sizes that are 50 gms, 100 gms, 500 gms, 1 Kg, 10 Kg, 15 Kgs, 20 Kgs, 50 Kgs, and also provide larger bags in bulk quantities in accordance with your needs. Read More
Private Labeling: To get your new business started and going, make sales, we can help you with our affordable full service Design, Labeling and Packaging your selection of products with us. Read More
Ask us about our Oxo-Biodegradable Plastic bags that are 100% eco-friendly. We can vacuum pack products for freshness upon clients' requirement only.