Psyllium Seeds Powder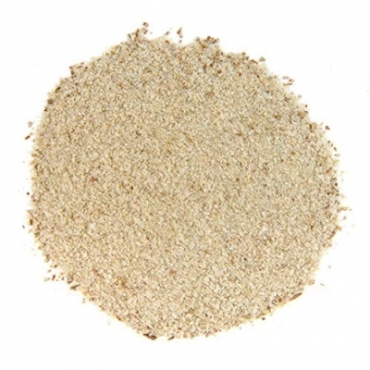 Psyllium Seeds Powder is fiber rich in content made from the seeds of the Plantago Ovata plant's seeds. This powder is beneficial for hair growth and the nourishment of hair roots. Damaged hair and infections of the scalp are treated by this powder. Psyllium Seeds powder can absorb a lot of water, so a tablespoon needs to be mixed in 8 ounces of water, to keep your body hydrated. 50 grams of psyllium seeds powder has around 5.5 grams of net carbs, making this powder Keto-friendly. Psyllium seeds powder has a neutral taste, it can be added as a thickening agent to stews, soups, and other gravy type dishes. Psyllium seeds powder can be mixed with henna powder to use as a paste to coat your hair and scalp.
The many health benefits of psyllium husk powder are as follows:
It is 100% herbal and natural in its content.
It is rich in natural nutrients, helps reduces hair loss, and enhances hair luster.
It can be used on hair and scalp for different hair tones as a scalp cleanser.
Psyllium seeds Powder taken mixed in water helps make bowel movements easier.
Psyllium seeds Powder helps reduce flatulence.
Psyllium seeds powder helps enhance digestive health.
Psyllium seeds powder helps lower cholesterol levels.
Psyllium seeds powder protects hair against breakage and restores hair shine
Psyllium content binds to fat and bile acids, helping the body to excrete them as waste. In the process of replacing bile acids, the liver uses more cholesterol to produce new bile acid.
Psyllium seeds powder helps ease constipation, but it also works for dysbiosis (gut bacteria imbalance), irritable bowel syndrome (particularly in constipation-predominant IBS), and helps remove parasites (helps remove parasite eggs and prevent them from taking root) in your intestinal tracts.
There are no harsh acids or chemicals mixed in this psyllium seeds powder. It is 100% natural. Overuse of this powder is not recommended.
Caution: Taking Psyllium Seeds Powder without adequate water can cause the powder to soak up the water and cause choking sensation and breathing difficulty.
Quality: Our focus on quality is par excellence. We test our products for long term, general side effects. We've found that there are no side effects when it comes to the general population, men and women, who have been using our line of products over the last 25 years. Read More
Packaging: We currently provide pack sizes that are 50 gms, 100 gms, 500 gms, 1 Kg, 10 Kg, 15 Kgs, 20 Kgs, 50 Kgs, and also provide larger bags in bulk quantities in accordance with your needs. Read More
Private Labeling: To get your new business started and going, make sales, we can help you with our affordable full service Design, Labeling and Packaging your selection of products with us. Read More
Ask us about our Oxo-Biodegradable Plastic bags that are 100% eco-friendly. We can vacuum pack products for freshness upon clients' requirement only.