Cassia Alata Leaves Powder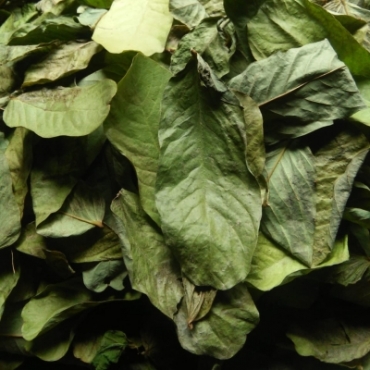 The powder is prepared and processed from a medicinal herb that grows in the tropical and humid regions. The powder of these leaves is said to have a great medicinal value. Senna Alata is called the "Ringworm" bush because of its effective fungicidal properties. The leaves are ground using a mortar pestle to obtain the greenish paste. The plant is traditionally used in the treatment of Typhoid, Diabetes, Malaria, Asthma, Ringworms, Tinea, Scabies, Herpes, and Eczema. This powder can be safely used twice a week. It can be ingested in small safe amounts in green tea or herbal tea. Stop use at once, if you experience any side effects. You can apply externally on skin as a paste or mixed with coconut or brahmi oil for skin infections. Cassia Alata, has high levels of Anthraquinones and Crysophanic acid. This powder has been traditionally used to treat eczema, itching and a variety of skin infections caused by microbes in humans. In other tests, the Anthraquinones prevented infections caused by various strains of bacteria, the Streptococus mutans, Staphylococcus aureus, Bacillus subtilis, Micrococcus luteus, and Pseudomonas putida. Crysophanic acid is also effective in treating psoriasis.
The health benefits of Cassia Alata are listed below:
This powder is highly beneficial for laxative and purgative uses.
This powder works well in Typhoid, Ringworms, Eczema and Herpes.
It is 100% herbal and an effective medicinal powder.
Skin diseases are treated with the use of this powder on a frequent basis.
This powder is used to treat Irritable bowel syndrome (IBS), healing after anal or rectal surgery, heal tears in the lining of the anus (anal fissures), and hemorrhoids.
It is used to help with people who want to reduce their body mass, helps with weight loss.
Product Uses: Ointment, Powder.
Quality: Our focus on quality is par excellence. We test our products for long term, general side effects. We've found that there are no side effects when it comes to the general population, men and women, who have been using our line of products over the last 25 years. Read More
Packaging: We currently provide pack sizes that are 50 gms, 100 gms, 500 gms, 1 Kg, 10 Kg, 15 Kgs, 20 Kgs, 50 Kgs, and also provide larger bags in bulk quantities in accordance with your needs. Read More
Private Labeling: To get your new business started and going, make sales, we can help you with our affordable full service Design, Labeling and Packaging your selection of products with us. Read More
Ask us about our Oxo-Biodegradable Plastic bags that are 100% eco-friendly. We can vacuum pack products for freshness upon clients' requirement only.