Spirulina Powder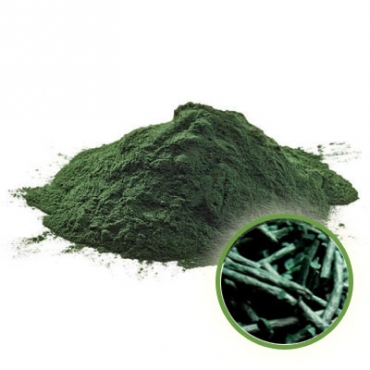 Spirulina is a popular supplement, called the blue-green algae. It is loaded with nutrients and antioxidants that is beneficial to your body and brain. It is an organism that can be grown and harvested in both fresh and salt water. Spirulina powder is a type of Cyanobacteria, which is a family of single-celled microbes. Similar to how plants make their food, Cyanobacteria produces energy from sunlight through the process of photosynthesis. Spirulina was consumed by the ancient Aztecs and considered medicinal. A standard daily dose of Spirulina up to 3 grams is acceptable for beginners. Doses of up to 10 grams per day have been used by regular and daily users without experiencing any negative side effects.
Spirulina is packed with rich nutrients. A single tablespoon (7 grams) of Spirulina powder contains four grams of Protein, 11% of Vitamin B1 (thiamine), 15% of Vitamin B2 (riboflavin), 4% of Vitamin B3 (niacin), 21% of Copper, and 11% of Iron. This helps people with low blood cell count and anemic people.
Spirulina powder also contains essential nutrients like magnesium, potassium, and manganese, that your body needs. It is only 20 calories and 1.7 grams of Carbohydrates. The protein in Spirulina is considered equal to eggs and has the essential amino acids that is necessary for body and muscle building.
Spirulina tastes like seaweed, like the ocean. It has a high protein and vitamin content, which makes it an excellent dietary supplement for people on vegetarian or vegan diets. It has herbal and anti-inflammatory benefits. These nutrients make your body stronger which protects it from many diseases. Our Organic Spirulina Powder contains a variety of vitamins and minerals to help support your healthy lifestyle. It is highly effective and is truly an amazing food supplement from all aspects.
The many health benefits of the Spirulina powder are listed below:
It is a powerful herbal food supplement with plenty of antioxidants and nutrients.
Taking Spirulina rejuvenates a tired body, and helps ease aching and sore muscles.
It has plenty of protein, vitamins, and minerals that your body requires.
Spirulina powder helps maintain the balance between good and bad cholesterol.
Spirulina powder helps improve the health of the gastrointestinal tract.
Spirulina has zero sugar, no medicinal taste, and is high in nutrient content.
Spirulina has been known to ease constipation, and lessens any side effects or toxicity.
At Matha Exports, Spirulina powder is highly in demand and is created with much care.
Quality: Our focus on quality is par excellence. We test our products for long term, general side effects. We've found that there are no side effects when it comes to the general population, men and women, who have been using our line of products over the last 25 years. Read More
Packaging: We currently provide pack sizes that are 50 gms, 100 gms, 500 gms, 1 Kg, 10 Kg, 15 Kgs, 20 Kgs, 50 Kgs, and also provide larger bags in bulk quantities in accordance with your needs. Read More
Private Labeling: To get your new business started and going, make sales, we can help you with our affordable full service Design, Labeling and Packaging your selection of products with us. Read More
Ask us about our Oxo-Biodegradable Plastic bags that are 100% eco-friendly. We can vacuum pack products for freshness upon clients' requirement only.