Moringa Leaves Powder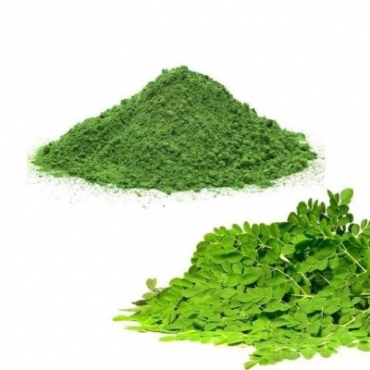 Moringa leaf powder is got from dehydrating moringa leaves and powdering them. The tree is called the Drumstick tree with long thin vegetable called the Drumstick. Moringa leaf extract is used as a food preservative to help increase the shelf life of meat by reducing oxidation. This powder can be used as a paste for scalp of the hair or skin remedies also. Moringa leaves power is highly nutritious and beneficial for those people who do not eat well and lack essential nutrients. This powder can be mixed in meat stews, vegetable curries, and soups. At Matha Exports, our moringa leaves powder are 100% certified organic.
The many health benefits of the Moringa Leaf Powder are as follows:
Moringa leaves powder protects the liver and nourishes the skin and hair if used regularly.
Moringa leaves powder helps bring oxygen to nourish your hair roots.
Moringa leaves powder has many vitamins that helps make your hair healthier.
It treats edema and protects the bones by providing much needed vitamins.
This powder can help prevent mental disorders and maintain good brain health.
Moringa leaves powder helps treat upset stomach and digestive issues.
Moringa oleifera helps moderate blood sugar and cholesterol levels in patients.
Moringa leaf powder has rich antioxidants which help boost skin vitality.
Moringa leaf powder has anti-inflammatory powers which protects the body from pain.
Quality: Our focus on quality is par excellence. We test our products for long term, general side effects. We've found that there are no side effects when it comes to the general population, men and women, who have been using our line of products over the last 25 years. Read More
Packaging: We currently provide pack sizes that are 50 gms, 100 gms, 500 gms, 1 Kg, 10 Kg, 15 Kgs, 20 Kgs, 50 Kgs, and also provide larger bags in bulk quantities in accordance with your needs. Read More
Private Labeling: To get your new business started and going, make sales, we can help you with our affordable full service Design, Labeling and Packaging your selection of products with us. Read More
Ask us about our Oxo-Biodegradable Plastic bags that are 100% eco-friendly. We can vacuum pack products for freshness upon clients' requirement only.