Hibiscus Roselle Powder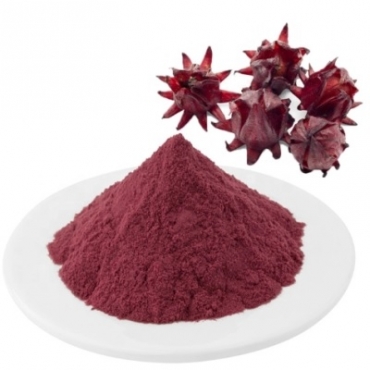 Hibiscus Roselle Powder is rich in vitamin C, minerals, and antioxidants. Hibiscus Roselle powder is made from the dried hibiscus flower. First, we harvest the flower, sun-dry them and then mill them into the powder. The whole process is natural. There This powder used with pure henna mix can give the hair a boost of growth and beauty. This powder (1 tsp) can be mixed daily in regular tea or herbal tea. The antioxidants in this powder will help clear up your skin, brighten and even its tone.
The many health benefits of the Hibiscus Roselle Powder are as follows:
Hibiscus Roselle Powder is rich in herbal and natural nutrients packed with antioxidants.
Hibiscus is used to treat dandruff and stimulate hair growth.
It improves the blood circulation under the scalp to stimulate healthy hair growth.
This powder helps thicken your hair and add volume.
This powder is a powerhouse of vitamins. It has vitamin A, vitamin B1 (thiamin), vitamin B2 (Riboflavin), vitamin B9 (folic acid), Vitamin C and vitamin E.
Vitamin E helps moisturize your skin.
Vitamin C helps with collagen production which helps make the skin firm giving it a youthful appearance.
This powder is rich in natural minerals like calcium, potassium, magnesium and iron.
Do not overuse this powder. Use only as directed.
Our prime focus at Matha Exports is the quality in each product we manufacture. We strive hard in offering the very best in quality to our customers. We are always looking to make natural beauty products to help our customers worldwide, so that they benefit from using these products again and again.
Quality: Our focus on quality is par excellence. We test our products for long term, general side effects. We've found that there are no side effects when it comes to the general population, men and women, who have been using our line of products over the last 25 years. Read More
Packaging: We currently provide pack sizes that are 50 gms, 100 gms, 500 gms, 1 Kg, 10 Kg, 15 Kgs, 20 Kgs, 50 Kgs, and also provide larger bags in bulk quantities in accordance with your needs. Read More
Private Labeling: To get your new business started and going, make sales, we can help you with our affordable full service Design, Labeling and Packaging your selection of products with us. Read More
Ask us about our Oxo-Biodegradable Plastic bags that are 100% eco-friendly. We can vacuum pack products for freshness upon clients' requirement only.