Cassia Obovata Powder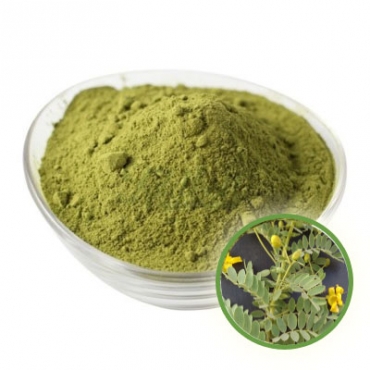 Cassia Obovata is a plant that grows mainly in South Asia and Africa. Cassia obovata is also known as Senna obovata. There are about 400 species of Cassia around the world. The leaves of this plant has been used in folk medicines, as antifungals, antibacterials, and laxatives, and were recorded as early as the 9th and 10th century in the Arabic pharmacopoeias. The leaves of several species of Cassia are traditionally used to cure fungal and bacterial infections. The powder has been tested and found to be highly effective in fighting against many infections caused by microbes and fungi.
Cassia Obovata has high levels of Anthraquinones and Crysophanic acid which are effective inhibitors of skin fungus, mite infestations, bacterial and microbial diseases. It has also been demonstrated to completely cure bovine (Cow) skin lesions due to Dermatophilus Congolensis, Pityriasis versicolor, Psoroptes cuniculi.
The Cassia Obovata leaves have high levels of Anthraquinones and Crysophanic acid which are genuinely effective in promoting healthy conditions of the scalp and hair.
Cassia Obovata powder is similar to the henna plant in that the leaves are harvested, dried, and powdered to make a great hair conditioner. The Cassia dye brings out golden tones in light hair. The powder also helps brittle hair conditions by strengthening the hair roots and follicles.
The many health benefits of Cassia Obovata are listed below:
Cassia is mainly used for coloring light and Blonde hair.
It is used as a Hair Conditioner and Hair Toner.
It adds shine and bounce to hair. It helps eliminate Dandruff.
It is a natural remedy for treating lice.
Cassia powder helps remove fungal and bacterial infections of the scalp.
This powder helps make the hair more healthy and vibrant, adding a lustrous bounce.
Product Uses: Hair Dye, Conditioner, Toner.
Quality: Our focus on quality is par excellence. We test our products for long term, general side effects. We've found that there are no side effects when it comes to the general population, men and women, who have been using our line of products over the last 25 years. Read More
Packaging: We currently provide pack sizes that are 50 gms, 100 gms, 500 gms, 1 Kg, 10 Kg, 15 Kgs, 20 Kgs, 50 Kgs, and also provide larger bags in bulk quantities in accordance with your needs. Read More
Private Labeling: To get your new business started and going, make sales, we can help you with our affordable full service Design, Labeling and Packaging your selection of products with us. Read More
Ask us about our Oxo-Biodegradable Plastic bags that are 100% eco-friendly. We can vacuum pack products for freshness upon clients' requirement only.