Red Kamala Powder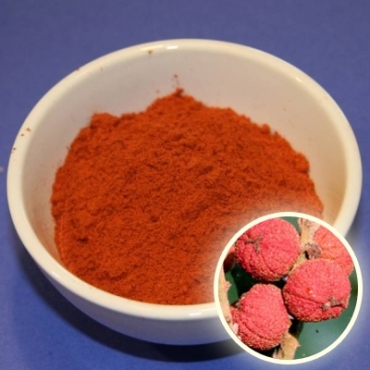 The fruits of Red Kamala is famous for its coloring properties. It is regarded as one of the world's important natural dyes. This color is extracted from the covering of the seed capsules and it can give out a red, orange, or yellow color, depending on how it is treated. When used on hair, Red Kamala powder helps to protect color and promote hair growth. It may be mixed with Henna Powder or Indigo Powder to achieve different shades of red, coffee brown, or burgundy colors. The Antifungal, Antimicrobial and Anti-parasitic properties help to treat fungal and parasitic infections of the scalp. It is advisable to use this powder regularly for people prone to infections of the scalp. This will prevent all types of scalp infections.
At Matha Exports, Red Kamala powder is 100% organic and free from chemicals. We are well known for our herbal products which treat the world's citizens with our best and trusted natural products.
The many health benefits of the Red Kamala powder are as follows:
Red Kamala powder colors your hair naturally, without using chemicals which is healthy for your scalp and hair roots.
This powder helps treat scalp infections at all stages, and helps prevent hair damage.
Red Kamala powder is a natural dying agent with Fuchsia undertones.
Red Kamala powder has conditioning properties which restores shine to the hair.
Red Kamala powder can be used for skin eruptions, remove freckles and pustules.
Red Kamala powder can be mixed in water and consumed to kill tapeworms in the gut.
Red Kamala powder is effective to treat acute skin problems like Scabies and ringworm infections.
Quality: Our focus on quality is par excellence. We test our products for long term, general side effects. We've found that there are no side effects when it comes to the general population, men and women, who have been using our line of products over the last 25 years. Read More
Packaging: We currently provide pack sizes that are 50 gms, 100 gms, 500 gms, 1 Kg, 10 Kg, 15 Kgs, 20 Kgs, 50 Kgs, and also provide larger bags in bulk quantities in accordance with your needs. Read More
Private Labeling: To get your new business started and going, make sales, we can help you with our affordable full service Design, Labeling and Packaging your selection of products with us. Read More
Ask us about our Oxo-Biodegradable Plastic bags that are 100% eco-friendly. We can vacuum pack products for freshness upon clients' requirement only.