Eucalyptus Powder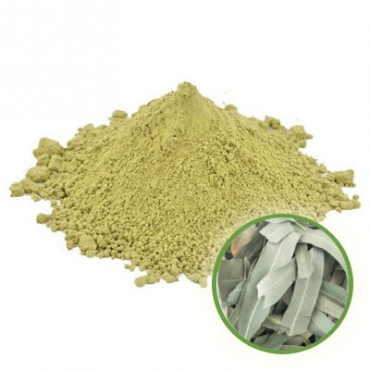 Eucalyptus powder is derived by grinding leaves and tender shoots of the Eucalyptus tree. The Eucalyptus tree is a genus of over seven hundred species of flowering trees, in the myrtle family, Myrtaceae. It is a fast-growing evergreen tree native to Asia and Australia. The leaves are used to be made powder or oil, which are used in many products, because it has many health benefits to our body, especially the lungs. These products made from Eucalyptol, a compound found in the leaves is used to reduce colds, coughs, and congestion. It is used in aromatherapy, skin care creams, and ointments that help in relieving muscle and joint pain.
The many health benefits of the Eucalyptus powder are as follows:
The Eucalyptus powder can help soothe an itchy scalp, and promote healthy-hair.
Regular application of the Eucalyptus powder mixed with pure henna powder helps get a good volume of shiny hair.
This powder has anti-inflammatory and pain-relieving properties. It can be mixed into a paste and applied as a face mask to relieve a bad sunburn.
The Eucalyptus powder provides a natural cooling sensation which can help cool your scalp by applying it as a paste.
The Eucalyptus powder has antibacterial properties which can be applied as a paste to infected areas of the skin.
It can be used as a face mask to cleanse skin of bacteria or fungi.
A few pinches of Eucalyptus powder can be mixed with herbal tea to provide nasal relief.
Eucalyptus paste can be applied on your forehead and the bottom of your feet if you experience symptoms of cold, headaches, and cough. It helps ease congestion of the Sinus and bronchial infections.
Eucalyptus paste can be applied on your forehead to help get a good night's sleep.
Applying the Eucalyptus paste on the body with swelling or joint pain can help relieve symptoms of Rheumatoid Arthritis.
Quality: Our focus on quality is par excellence. We test our products for long term, general side effects. We've found that there are no side effects when it comes to the general population, men and women, who have been using our line of products over the last 25 years. Read More
Packaging: We currently provide pack sizes that are 50 gms, 100 gms, 500 gms, 1 Kg, 10 Kg, 15 Kgs, 20 Kgs, 50 Kgs, and also provide larger bags in bulk quantities in accordance with your needs. Read More
Private Labeling: To get your new business started and going, make sales, we can help you with our affordable full service Design, Labeling and Packaging your selection of products with us. Read More
Ask us about our Oxo-Biodegradable Plastic bags that are 100% eco-friendly. We can vacuum pack products for freshness upon clients' requirement only.