Guar Gum Powder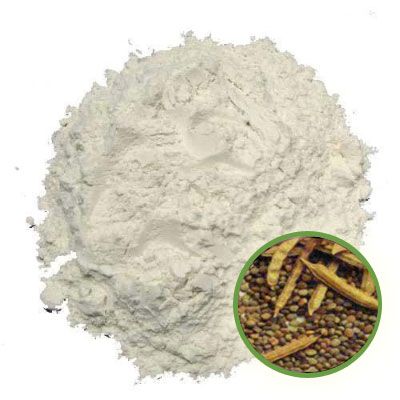 Matha Exports brings you a world-class Guar Gum Powder. This powder is made from milling the Guar plant seeds that is native to Asia. Its name is derived from the Sanskrit word meaning "food for cows." These beans are also called Cluster Beans and Siam Beans. This powder has a natural gum which is a polysaccharide that is added to cosmetic face mask formulations to enhance beauty and glowing skin in women. The Guar Gum powder is an off-white, water-soluble powder. Guar Gum's surfactant quality makes it ideal for use in soaps, as it helps to produce a rich lather. Guar gum powder has an exceptional hair conditioning ability which can be applied as a paste along with henna powder to help soften hair while easing frizz and static, helping the hair become more manageable. Guar Gum is also used as a preserving and stabilizing agent to extend the shelf life of various skincare products like Creams, Lotions, Shampoos, Hair Conditioners, Deodorants, Shaving Creams, Ointments, Soaps, and Body Wash.
The many health benefits of Guar Gum Powder are as follows:
This powder mixed with herbal henna acts as a great hair conditioner.
It helps restore the scalp's moisture, helping to prevent scalp dryness.
Guar Gum Powder is natural preserving agent that is used in the Food Industry.
Guar Gum powder mixed with Henna can help work on your scalp and hair roots to soften hair while easing frizz and static, helping the hair become more manageable.
Quality: Our focus on quality is par excellence. We test our products for long term, general side effects. We've found that there are no side effects when it comes to the general population, men and women, who have been using our line of products over the last 25 years. Read More
Packaging: We currently provide pack sizes that are 50 gms, 100 gms, 500 gms, 1 Kg, 10 Kg, 15 Kgs, 20 Kgs, 50 Kgs, and also provide larger bags in bulk quantities in accordance with your needs. Read More
Private Labeling: To get your new business started and going, make sales, we can help you with our affordable full service Design, Labeling and Packaging your selection of products with us. Read More
Ask us about our Oxo-Biodegradable Plastic bags that are 100% eco-friendly. We can vacuum pack products for freshness upon clients' requirement only.