Pomegranate Powder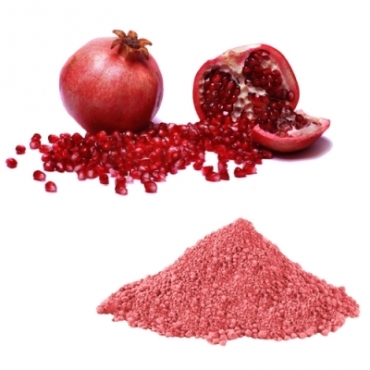 Pomegranate Powder is got from Pomegranate peels, rinds, and seeds. This powder is full of rich mineral salts and nutrients which is good for skin, body, and hair. This powder has antibacterial properties, which fights acne, pimples and rashes. The peels and seeds are nutrient rich, have plenty of antioxidants. This helps in keeping bacteria and other infections away. Regular use of Pomegranate powder with milk or other fruit juice helps strengthen your immune system, helps regulate Type-2 diabetes, helps to balance blood pressure levels, ease digestion in your intestines and makes your skin healthy and vibrant looking.
The many health benefits of Pomegranate Powder are as follows:
Pomegranate powder gives a classy lustrous look to your hair texture and style.
It helps control hair loss and works on restoring hair damage.
Pomegranate powder helps to nourish hair by making it silky and glossy.
Pomegranate Powder face mask helps brighten the skin tone with regular use.
Mixed with water pomegranate powder can help fight bad breath. This water can be used as a natural mouthwash to rinse your gums and teeth.
Add two spoonfuls of Pomegranate powder in milk daily to get glowing skin and health benefits.
Pomegranate powder can help repair damage to skin caused by UVA and UVB sun rays.
Use this powder as a cooling face mask after spending a long day in the sun. It helps to repair and restore your skin's youthful look.
You can mix Pomegranate powder with burgundy henna hair dye to get a richer brownish red classy color.
Quality: Our focus on quality is par excellence. We test our products for long term, general side effects. We've found that there are no side effects when it comes to the general population, men and women, who have been using our line of products over the last 25 years. Read More
Packaging: We currently provide pack sizes that are 50 gms, 100 gms, 500 gms, 1 Kg, 10 Kg, 15 Kgs, 20 Kgs, 50 Kgs, and also provide larger bags in bulk quantities in accordance with your needs. Read More
Private Labeling: To get your new business started and going, make sales, we can help you with our affordable full service Design, Labeling and Packaging your selection of products with us. Read More
Ask us about our Oxo-Biodegradable Plastic bags that are 100% eco-friendly. We can vacuum pack products for freshness upon clients' requirement only.