Tomato Powder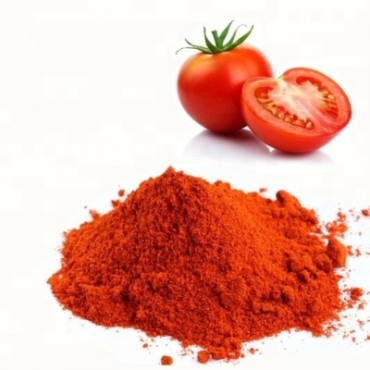 Tomato powder is a great ingredient that can be used as a flavoring agent for soups, stews and curries. It can be mixed into a rich thick paste and used externally as well. As a natural astringent, it helps keep the skin looking youthful and firm by reducing fine lines. Tomato Powder helps to shrink large pores and brightens up skin complexion. It cleanses and exfoliates the face by removing dead skin cells, blackheads, and impurities that clogs pores and cause acne and pustule breakouts. Tomato powder is made naturally by Matha Exports, from naturally grown, dehydrated tomatoes.
The many health benefits of the Tomato Powder are as follows:
Tomato powder helps prevent overflow of digestive enzymes and helps balance digestive acids in your stomach.
It can help improve the health and appearance of your skin, when used twice weekly.
Tomato paste mask can help scrub and remove dead skin cells and put a glow on the face.
Tomato powder nourishes hair roots, and follicles. It helps prevent premature gray hair.
Tomato powder nourishes our hair and scalp which helps to boost hair growth.
Applying tomato paste on the face helps to reduce unnatural pigmentation, remove dullness and dark spots, making the face shine brighter and radiant.
Tomato powder can help balance excessive oil on your face, which will lessen acne breakouts.
Quality: Our focus on quality is par excellence. We test our products for long term, general side effects. We've found that there are no side effects when it comes to the general population, men and women, who have been using our line of products over the last 25 years. Read More
Packaging: We currently provide pack sizes that are 50 gms, 100 gms, 500 gms, 1 Kg, 10 Kg, 15 Kgs, 20 Kgs, 50 Kgs, and also provide larger bags in bulk quantities in accordance with your needs. Read More
Private Labeling: To get your new business started and going, make sales, we can help you with our affordable full service Design, Labeling and Packaging your selection of products with us. Read More
Ask us about our Oxo-Biodegradable Plastic bags that are 100% eco-friendly. We can vacuum pack products for freshness upon clients' requirement only.