Sidr Leaves Powder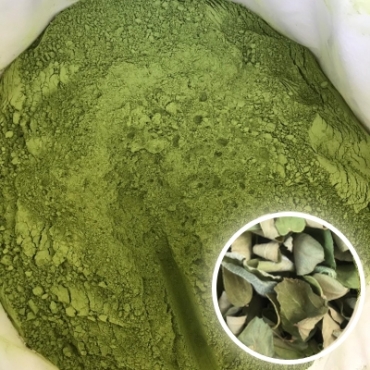 Sidr is a desert plant that grows up to 15 feet tall. It is found in dry and arid regions of the world. It was used in the ancient, early days as a substitute to shampoo. The leaves were powdered and used to wash and rinse out hair and cleanse the scalp. The Sidr leaves powder has other medicinal benefits too. If your hair and scalp are experiencing dryness and irritation associated with chemical shampoos, use our natural Sidr powder to benefit your scalp and hair instantly.
We are proud to offer you our 100% Pure, Natural and organic Sidr Leaves Powder that is manufactured from the finest quality leaves. Matha Exports is a leading producer of herbal and natural ingredients. Sidr powder works effectively upon the skin and helps with hair growth without using any external hair conditioner. Sidr powder helps make the hair clean, shiny, and gives it a thicker, fuller texture. Sidr leaves powder can be mixed with warm water to make the best hair paste ever known. It will help the hair to grow fuller and thicker, whilst repairing the damaged hair and hair roots. This powder works for all hair types and is medicinally beneficial to the scalp and hair.
The many health benefits of the Sidr leaves Powder are as follows:
It works great on hair as well as the skin benefits if applied as a paste.
It is ideal for washing your scalp and hair.
It can be mixed with henna mix powder to give it extra health benefits.
Sidr leaves powder is herbal in nature which treats skin problems taking care of infections.
Rich in saponins, this naturally occurring compound is excellent for washing and cleansing the hair, making the hair soft without using any chemical conditioners.
Sidr leaves powder helps with healthy hair growth. It helps make the hair fuller, longer, thicker, and shiny.
Quality: Our focus on quality is par excellence. We test our products for long term, general side effects. We've found that there are no side effects when it comes to the general population, men and women, who have been using our line of products over the last 25 years. Read More
Packaging: We currently provide pack sizes that are 50 gms, 100 gms, 500 gms, 1 Kg, 10 Kg, 15 Kgs, 20 Kgs, 50 Kgs, and also provide larger bags in bulk quantities in accordance with your needs. Read More
Private Labeling: To get your new business started and going, make sales, we can help you with our affordable full service Design, Labeling and Packaging your selection of products with us. Read More
Ask us about our Oxo-Biodegradable Plastic bags that are 100% eco-friendly. We can vacuum pack products for freshness upon clients' requirement only.