Rama Tulsi Powder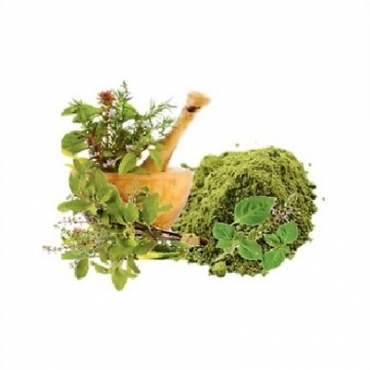 Rama Tulsi Powder is extracted from powdering dehydrated leaves of the Tulsi plant, also known as Holy Basil. At Matha Exports, Rama Tulsi Powder is manufactured using the best quality methods. Rama Tulsi powder is in high demand. There are immense health benefits that create Tulsi Rama powder as one of the natural ingredients for humans. It helps clear acne on the skin and cures stomach digestive issues. Matha Exports offers a highly economical and powerful herb which can be used daily.
The difference between Rama and Krishna Rama Tulsi, is that Rama Tulsi (Ocimum sanctum) has light green colored leaves. Krishna Tulsi (Ocimum sanctum) is also known as Shayam Tulsi which has black leaves.
The many health benefits of the Rama Tulsi Powder are as follows:
Rama Tulsi powder is a good stress buster and gives energy to the body during a fever.
Rama Tulsi powder can be taken daily and it is good as a daily dietary supplements.
Rama Tulsi powder fights against cough, stress, periodic fevers, and inflectional disputes.
Rama Tulsi powder helps increase the cognitive functions and increases the memory power.
Rama Tulsi powder is typically used for anxiety, stress, and fatigue, and may be used in herbal formulations to help treat asthma, bronchitis, colds, and the flu.
Rama Tulsi powder has memory enhancement property. Eugenol and Ursolic acid in Rama Tulsi powder reduces the level of cortisol and helps to manage stress and stress-related problems like poor memory.
Rama Tulsi is a medicinal plant that helps in purifying blood. It has many health properties that improves your sexual and reproductive health.
Rama Tulsi powder has antibacterial and anti-inflammatory properties that prevent oxidative stress. This powder can be mixed with milk, which strengthens your immune system. It helps you fight the common cold and seasonal flu attacks.
Quality: Our focus on quality is par excellence. We test our products for long term, general side effects. We've found that there are no side effects when it comes to the general population, men and women, who have been using our line of products over the last 25 years. Read More
Packaging: We currently provide pack sizes that are 50 gms, 100 gms, 500 gms, 1 Kg, 10 Kg, 15 Kgs, 20 Kgs, 50 Kgs, and also provide larger bags in bulk quantities in accordance with your needs. Read More
Private Labeling: To get your new business started and going, make sales, we can help you with our affordable full service Design, Labeling and Packaging your selection of products with us. Read More
Ask us about our Oxo-Biodegradable Plastic bags that are 100% eco-friendly. We can vacuum pack products for freshness upon clients' requirement only.