Rosemary Leaves Powder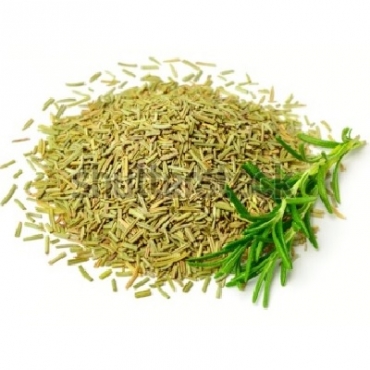 Rosemary has evergreen leaves and is a shrub. This herb leaves are about 1 inch long, dark green, with a pungently aromatic odor, that is a bit camphor like. The flowers are small and pale blue.
Rosemary leaves powder is beneficial to our health, skin and hair. With its well-known property to provide constant moisture, the leaves are used to make this powder. It works as a barrier, a protector to treat the scalp from dryness, replacing moisture, and promoting hair growth.
The many health benefits of the Rosemary Leaves Powder are as follows:
Rosemary powder can be used in a mix of sweet lemonade as a refreshing herbal drink.
Rosemary powder mixed with lime juice can be used as an astringent to cleanse the face.
Rosemary powder works great mixed with pure henna powder and applied on the scalp.
Rosemary powder helps heal the scalp, improve hair growth and is a great source of antioxidants to the hair roots, skin, and body.
Rosemary powder improves digestion when used with meat and poultry dishes.
Rosemary has medicinal qualities that does wonders for the brain and the memory.
Rosemary can help cure nervous anxiety and headaches. Used in food or drink, it is good and medicinal for the brain and nervous system.
Rosemary can be mixed with mint (pudhina) powder to help relieve asthma and other affections of the throat and lungs. This combined paste can be rubbed on the chest and forehead at night or before taking rest, or going to sleep.
Quality: Our focus on quality is par excellence. We test our products for long term, general side effects. We've found that there are no side effects when it comes to the general population, men and women, who have been using our line of products over the last 25 years. Read More
Packaging: We currently provide pack sizes that are 50 gms, 100 gms, 500 gms, 1 Kg, 10 Kg, 15 Kgs, 20 Kgs, 50 Kgs, and also provide larger bags in bulk quantities in accordance with your needs. Read More
Private Labeling: To get your new business started and going, make sales, we can help you with our affordable full service Design, Labeling and Packaging your selection of products with us. Read More
Ask us about our Oxo-Biodegradable Plastic bags that are 100% eco-friendly. We can vacuum pack products for freshness upon clients' requirement only.