Jatamansi Powder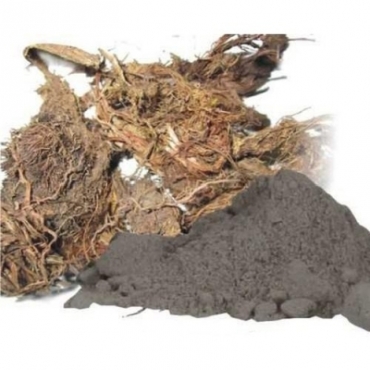 Jatamansi is a famous Ayurvedic herb called, Nardostachys Jatamansi. It is used to treat neuro-psychiatric diseases and skin diseases. Jatamansi Powder is manufactured using high quality ingredients which are all natural in content, and preferred by clients. The oily nature of the powder helps restore the oil levels in the skin and helps benefit the skin immensely. The tuberous roots of the plant are used in the Ayurveda as a bitter tonic, stimulant, antispasmodic, to treat hysteria, convulsions, and epilepsy. It has also been medically used to treat insomnia and blood, circulatory, and mental disorders.
Jatamansi powder is frequently used along with saffron, turmeric and other skin-benefiting herbs to make a beneficial face pack, face cream or face masks. Regular application of this face pack helps improve skin tone, glow, and promote a brighter complexion.
The many health benefits of the Jatamansi powder are as follows:
Jatamansi powder helps prevent wrinkles and treats the ageing process in humans.
Jatamansi powder helps improve memory power.
Jatamansi powder strengths the hair from the roots and helps treat Epilepsy.
Jatamansi powder lowers blood pressure and helps prevent clotting of blood.
This powder helps promote hair growth.
Jatamansi powder can be mixed with pure henna powder and applied on the scalp and hair which makes your hair smoother, shinier, and silkier.
Jatamansi powder can also be mixed in with coconut or sesame oil and left overnight, then applied the next day to boost scalp and overall health of the hair follicles.
Matha Exports is a top-notch name in the world of herbal and treatment products. We aim to provide the best in skin and beauty care products, making sure that all our products are natural, organic, and pure.
Quality: Our focus on quality is par excellence. We test our products for long term, general side effects. We've found that there are no side effects when it comes to the general population, men and women, who have been using our line of products over the last 25 years. Read More
Packaging: We currently provide pack sizes that are 50 gms, 100 gms, 500 gms, 1 Kg, 10 Kg, 15 Kgs, 20 Kgs, 50 Kgs, and also provide larger bags in bulk quantities in accordance with your needs. Read More
Private Labeling: To get your new business started and going, make sales, we can help you with our affordable full service Design, Labeling and Packaging your selection of products with us. Read More
Ask us about our Oxo-Biodegradable Plastic bags that are 100% eco-friendly. We can vacuum pack products for freshness upon clients' requirement only.