Lemon Peel Powder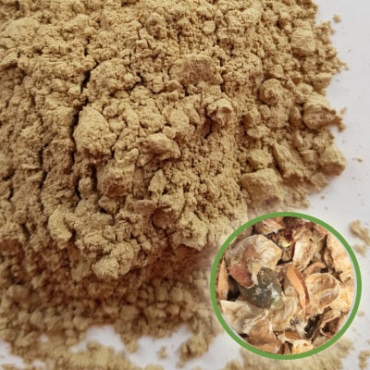 Lemon Peel Powder is extracted from drying lemon rinds, mature lemon peels, which are dehydrated and then powdered, then sifted for purity. Lemon Peel Powder can be mixed into a soft paste that acts as a great face mask. It works best to absorb excess skin oil, remove dirt and impurities from skin pores, clear out pimples and blackheads away from your skin. It is a great astringent which helps keep your skin pores clean, clear, and fresh looking. Lemon Peel Powder can be taken internally as a herbal tea. It can be used to season stews, soups, and curries. It can be used in baking as a flavoring agent as well.
Apply the Lemon Peel Powder twice a week as a paste on your face to help remove dead skin cells on the surface of your skin. It can be applied regularly as a paste mixed with pure henna powder on your scalp.
At Matha Exports, we prepare Lemon Peel Powder using natural and safe methods. We start by drying the lemon peels in natural sunlight and then processing it in our clean facilities into a high quality organic powder. We do not use any kind of harsh chemicals. This powder is 100% herbal.
The many health benefits of the Lemon Peel Powder are as follows:
Lemon peel powder can be applied directly as a smooth paste on the scalp to clean infections.
It can help remove dandruff and maintains scalp health, which is helpful for hair growth.
The lemon peels have anti-microbial property which the powder has too.
Lemon Peel Powder can be used as an herbal tea to remove toxic elements from the body.
Lemon Peel Powder can help stop problems like hair loss, excessive drying of hair.
Lemon Peel Powder helps moisturize scalp and condition hair follicles.
Quality: Our focus on quality is par excellence. We test our products for long term, general side effects. We've found that there are no side effects when it comes to the general population, men and women, who have been using our line of products over the last 25 years. Read More
Packaging: We currently provide pack sizes that are 50 gms, 100 gms, 500 gms, 1 Kg, 10 Kg, 15 Kgs, 20 Kgs, 50 Kgs, and also provide larger bags in bulk quantities in accordance with your needs. Read More
Private Labeling: To get your new business started and going, make sales, we can help you with our affordable full service Design, Labeling and Packaging your selection of products with us. Read More
Ask us about our Oxo-Biodegradable Plastic bags that are 100% eco-friendly. We can vacuum pack products for freshness upon clients' requirement only.