Chia Powder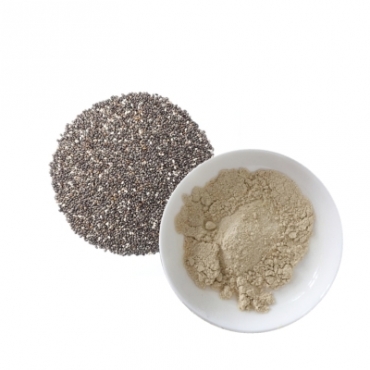 Chia powder is got by grinding up Chia seeds which are full of rich nutrients. The seeds are an excellent source of Omega-3 fatty acids, and rich in antioxidants. They provide fiber, iron, and calcium when added to a person's daily health regimen. Omega-3 fatty acids help raise HDL cholesterol, the "good" cholesterol which protects the heart against heart attack and stroke. Chia powder can be mixed in water and left for 15 minutes before drinking it. You can add bits of fruit to this mixture to make this health drink sweet and tasty. An ounce of Chia powder mixed in food (stews, puddings, porridge) or drink will provide 18% of calcium, 27% phosphorus, 30% manganese and delivers minor amounts of potassium, zinc and copper, which are great nutrients for your body to keep your body functioning in good health.
Chia powder can also be mixed with Henna to give your scalp and hair the best results. The Henna-Chia paste mixture can sit for 2 to 3 hours before you rinse it off. Chia powder gives hair salons a perfect opportunity to sell this to promote hair growth and healthy looking stylish hair.
The many health benefits of Chia powder are listed below:
Chia powder has a high content of phosphorus.
Chia powder is a popular natural ingredient which helps create the right conditions for hair growth.
Chia powder is prepared hygienically to promote hair volume and strength of hair roots.
Chia powder improves the condition of the hair with 9 amino acids related to stronger hair, skin and also the nails.
Chia powder triggers the darkening of the hair.
Disclaimer: Over consumption of Chia powder through drinking it is not recommended. Since Chia powder is rich in fiber, make sure to introduce fiber to your body in small doses. Chia powder is not recommended for people with kidney and related renal problems. Using Chia powder in small measures daily is healthy to your body.
Quality: Our focus on quality is par excellence. We test our products for long term, general side effects. We've found that there are no side effects when it comes to the general population, men and women, who have been using our line of products over the last 25 years. Read More
Packaging: We currently provide pack sizes that are 50 gms, 100 gms, 500 gms, 1 Kg, 10 Kg, 15 Kgs, 20 Kgs, 50 Kgs, and also provide larger bags in bulk quantities in accordance with your needs. Read More
Private Labeling: To get your new business started and going, make sales, we can help you with our affordable full service Design, Labeling and Packaging your selection of products with us. Read More
Ask us about our Oxo-Biodegradable Plastic bags that are 100% eco-friendly. We can vacuum pack products for freshness upon clients' requirement only.