Soapnut Powder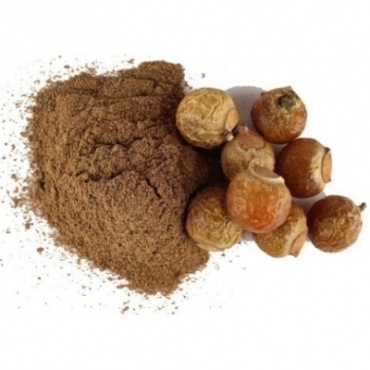 Soapnut is known as Reetha. It is also called Aritha or Washnut. Soapnut powder is derived from a berry which looks like a nut when dry. This nut is a product of a species of tree in the Sapindaceae family, which is native to India. It is one of the most popular herbs in Ayurveda. The Soapnut powder contains vitamins A, D, E, and K which imparts a shine to your hair and makes it look smooth. It is a natural conditioner that creates high content of vitamin E to moisturize your skin and Keratin for your hair. The Soapnut shells absorb water and release saponins, soapy quality natural foam which helps clean dirt, grime, and oils, from clothing. Soapnut powder has been used for hundreds of years in Indian households for the natural cleaning of garments, without any chemicals. Soap nut powder can be mixed with Shikakai powder to get more health benefits to the scalp and to the hair roots.
Soapnut powder can be mixed with Aloe Vera powder and water to make a lotion like consistency which can be used as a facemask or body scrub.
The many health benefits of the Soapnut Powder are as follows:
Soapnut powder can be used as an exfoliant on your scalp. It is gentle on your hair.
Soapnut powder helps clean your hair of oils, dirt, making it become lustrous and softer.
Soapnut powder can remove dry conditions of the scalp, increases moisture and natural oils to the scalp thereby reducing flakiness, itchiness, and removing dandruff.
Soapnut powder is effective as it works on the scalp to balance natural oils to hair roots.
Soapnut powder can be used as an effective face mask to help you get rid of stubborn pimples and blackheads with regular use.
Soapnut powder is said to have anti-microbial qualities. So it helps remove bacteria from the skin surface.
Product Uses: Soap powder, clothes detergent, Hand Lotions, All-purpose home cleaner, Washing the car. Soap nut powder can stay good for an indefinite period of time as long as it is kept stored in a cool, dry place. It does not necessarily have an expiry date. But it is recommended that it be used within two years
Quality: Our focus on quality is par excellence. We test our products for long term, general side effects. We've found that there are no side effects when it comes to the general population, men and women, who have been using our line of products over the last 25 years. Read More
Packaging: We currently provide pack sizes that are 50 gms, 100 gms, 500 gms, 1 Kg, 10 Kg, 15 Kgs, 20 Kgs, 50 Kgs, and also provide larger bags in bulk quantities in accordance with your needs. Read More
Private Labeling: To get your new business started and going, make sales, we can help you with our affordable full service Design, Labeling and Packaging your selection of products with us. Read More
Ask us about our Oxo-Biodegradable Plastic bags that are 100% eco-friendly. We can vacuum pack products for freshness upon clients' requirement only.