Lemon Powder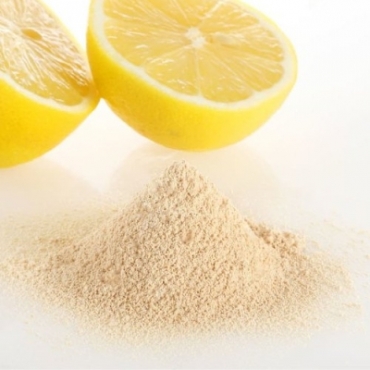 Lemon Powder is derived from dehydrated sweet/tart lemon juice crystals. It is used to flavor foods and beverages. It is a rich source of Vitamin C and is used to treat Scurvy and Rickets. There is no use of acid, toxins, or chemicals mixed in this lemon powder. The quality of our organic herbal lemon powder provides a lot of health benefits and provides a diverse texture to your hair. Lemon powder can be mixed in soups, stews, curries, and baking to help flavor food. Lemon powder has vitamin C, salts and minerals which are beneficial to our body in more ways than you can imagine.
The many health benefits of the Lemon Powder are as follows:
Lemon powder mixed with Honey can help soothe, moisturize and nourish an itchy scalp.
Lemon powder helps condition the scalp, and provides rich nutrients to hair roots.
Lemon powder has powerful antibacterial properties which helps reduce acne on the face.
Lemon powder helps restore pH balance in our bodies.
The Vitamin C in Lemon Powder has anti-inflammation properties helping people with joint and muscular pain.
Lemon powder can be added to Yogurt (curd) to make a rich paste to take internally.
Lemon powder paste mixed with Yogurt can be applied as a face mask to cool, refresh, and cleanse your skin. This mixture can also be applied generously on the scalp.
Lemon powder can be mixed with warm to hot water as a thick paste to apply as a face mask or on the scalp to cleanse impurities and treat infections.
Product Uses: Face scrub, Hair and Scalp conditioner, Good deodorizer and Kitchen cleaner, Flavoring Agent for Baking, Juices, Beverages, Stews, and Herbal Teas.
Quality: Our focus on quality is par excellence. We test our products for long term, general side effects. We've found that there are no side effects when it comes to the general population, men and women, who have been using our line of products over the last 25 years. Read More
Packaging: We currently provide pack sizes that are 50 gms, 100 gms, 500 gms, 1 Kg, 10 Kg, 15 Kgs, 20 Kgs, 50 Kgs, and also provide larger bags in bulk quantities in accordance with your needs. Read More
Private Labeling: To get your new business started and going, make sales, we can help you with our affordable full service Design, Labeling and Packaging your selection of products with us. Read More
Ask us about our Oxo-Biodegradable Plastic bags that are 100% eco-friendly. We can vacuum pack products for freshness upon clients' requirement only.