Henna Leaves Powder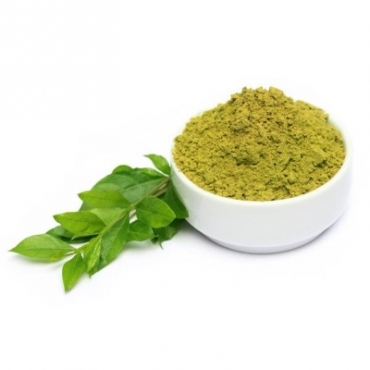 Henna powder is got from powdering dehydrated Henna plant leaves. The henna plant Lawsonia Inermis, is a shrub found in India and other South Asian countries, with long leaves and flexible stems. The Henna plant has small white to red flowers with berries and grows mainly in Northern Africa, Northern Australia and Asia. The leaves are harvested, dehydrated, powdered to be used to stain hands during the wedding season, or festival time. This powder is also used to dye hair. It gives off a strong reddish-brown stain as the dye oxidizes and dries out.
The many health benefits of Henna powder are listed below:
Henna powder helps restore the pH balance of the scalp to its natural acid-alkalinity levels.
It nourishes hair and roots.
Removes hair dryness, stops hair brittleness and adds vitality to hair.
It helps reduce fever, and Dysuria (Urinary tract infection / painful urination), jaundice, ulcers, helps reduce bleeding disorders, and skin diseases.
Henna can be applied directly to skin externally on the affected area, on the scalp for dandruff, eczema, scabies, fungal infections, and wounds. The henna leaves act as herbal medicine to ease the condition.
Product Uses: Powder, Paste, Dye Mix.
Quality: Our focus on quality is par excellence. We test our products for long term, general side effects. We've found that there are no side effects when it comes to the general population, men and women, who have been using our line of products over the last 25 years. Read More
Packaging: We currently provide pack sizes that are 50 gms, 100 gms, 500 gms, 1 Kg, 10 Kg, 15 Kgs, 20 Kgs, 50 Kgs, and also provide larger bags in bulk quantities in accordance with your needs. Read More
Private Labeling: To get your new business started and going, make sales, we can help you with our affordable full service Design, Labeling and Packaging your selection of products with us. Read More
Ask us about our Oxo-Biodegradable Plastic bags that are 100% eco-friendly. We can vacuum pack products for freshness upon clients' requirement only.