Fuller's Earth Powder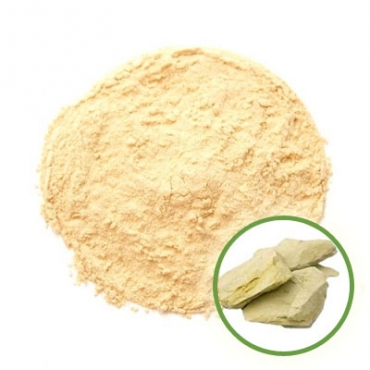 Fullers Earth is called Multani Mitti (in Hindi) which means volcanic ash mud. This is a nutrient rich mud that is the result of volcanic ashes decomposing and mixing with mud and clay to give an iron rich soil. The soil has a soft texture and is light cream colored. It has a lot of natural mineral salts that is beneficial for our skin. So Multani Mitti is very popular and used as a beauty face mask to remove impurities, and clean out skin pores. It can be used to mix and coat the entire body to help detoxify the body.
The many health benefits of Fuller's earth powder are as follows:
Fullers Earth helps make your skin radiant by removing blemishes and acne scars.
Fullers Earth can be mixed with water to wash and clear oily complexions, giving a balanced, even skin tone.
It improves the circulation of blood on the skin and improves scalp health.
Fullers Earth has rich mineral salt nutrients which helps grow healthier hair.
Fullers Earth can be made into a paste mixed with rosewater and left on the face to dry for 2 hours to give you a refreshed, glowing skin.
Quality: Our focus on quality is par excellence. We test our products for long term, general side effects. We've found that there are no side effects when it comes to the general population, men and women, who have been using our line of products over the last 25 years. Read More
Packaging: We currently provide pack sizes that are 50 gms, 100 gms, 500 gms, 1 Kg, 10 Kg, 15 Kgs, 20 Kgs, 50 Kgs, and also provide larger bags in bulk quantities in accordance with your needs. Read More
Private Labeling: To get your new business started and going, make sales, we can help you with our affordable full service Design, Labeling and Packaging your selection of products with us. Read More
Ask us about our Oxo-Biodegradable Plastic bags that are 100% eco-friendly. We can vacuum pack products for freshness upon clients' requirement only.