Indigo Powder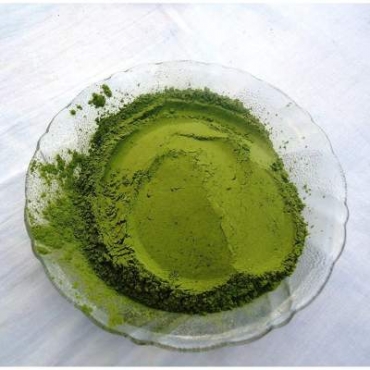 Indigo Powder is a natural dye that is derived by powdering leaves of the Indigo plant. It is called black henna, however, the dye is a rich bluish color which when applied on hair gives off a rich bluish-black glossy sheen. Repeat applications can help stain the hair darker. It is safe to the scalp and nourishes the hair roots. This product is all natural and has zero chemicals.
The many health benefits of Indigo Powder are as follows:
Indigo powder prevents premature graying.
This powder helps to promote new hair growth.
Indigo powder is herbal which removes dandruff and helps with having a healthy scalp.
It helps detangle and straightens hair, making handling hair manageable.
It increases the volume of hair, makes hair grow thicker and fuller.
Indigo powder when mixed with Henna powder is said to stop hair loss and promote hair growth.
Mixing henna and Indigo together may cause your hair to change color and become a deep brown, based on your individual hair composition.
Product Uses: Dye powder, Dye Mix.
Quality: Our focus on quality is par excellence. We test our products for long term, general side effects. We've found that there are no side effects when it comes to the general population, men and women, who have been using our line of products over the last 25 years. Read More
Packaging: We currently provide pack sizes that are 50 gms, 100 gms, 500 gms, 1 Kg, 10 Kg, 15 Kgs, 20 Kgs, 50 Kgs, and also provide larger bags in bulk quantities in accordance with your needs. Read More
Private Labeling: To get your new business started and going, make sales, we can help you with our affordable full service Design, Labeling and Packaging your selection of products with us. Read More
Ask us about our Oxo-Biodegradable Plastic bags that are 100% eco-friendly. We can vacuum pack products for freshness upon clients' requirement only.