Jamun Powder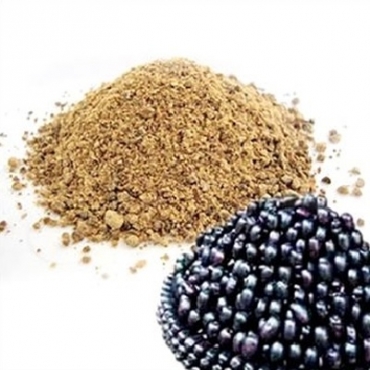 Jamun powder is 100% pure natural dried seed powder from Jamun seeds. It is the seed of the fruit called the black plum, and the Indian blueberry. These fruits are also known as Jambul and have a sweet and sour taste. At Matha Exports, Jamun powder is manufactured with all natural ingredients. It is 100% organic with natural content. The Jamun fruit is rich in antioxidants, calcium, fiber, iron, phosphorous, potassium, protein, manganese, vitamin C, and B6 and many other natural and mineral nutrients.
Consuming Jamun powder will help regulate blood sugar and pressure levels. Applying Jamun powder on the scalp will help boost hair health of the individual. It helps the immunity of the scalp to fight against fungal and bacterial infections. This helps in weight-loss and helps regulate the weight in all users who want to reduce body fat. It promotes digestion and is effective for a healthy heart and liver. Jamun Powder is well known and it is used in Ayurveda, Unani, and Chinese medicine.
The many health benefits of the Jamun powder are as follows:
It helps regulate digestive issues and stomach health.
It helps to recover damaged hair quality making your hair healthy and whole again.
Jamun powder when mixed with henna helps hair with good volume.
Jamun powder helps regulate high blood pressure and sugar levels.
Jamun powder aids to have a healthy heart and liver.
Jamun powder is capable of maintaining good bone health.
Jamun powder mixed with pure henna helps in the development of healthy hair.
Jamun also helps in balancing the natural oils of the scalp, resulting in healthy hair growth.
Quality: Our focus on quality is par excellence. We test our products for long term, general side effects. We've found that there are no side effects when it comes to the general population, men and women, who have been using our line of products over the last 25 years. Read More
Packaging: We currently provide pack sizes that are 50 gms, 100 gms, 500 gms, 1 Kg, 10 Kg, 15 Kgs, 20 Kgs, 50 Kgs, and also provide larger bags in bulk quantities in accordance with your needs. Read More
Private Labeling: To get your new business started and going, make sales, we can help you with our affordable full service Design, Labeling and Packaging your selection of products with us. Read More
Ask us about our Oxo-Biodegradable Plastic bags that are 100% eco-friendly. We can vacuum pack products for freshness upon clients' requirement only.