Katha Powder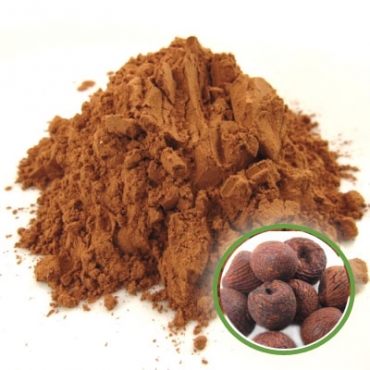 Katha Powder is extracted by boiling the Senegalia Catechu wood in water and evaporating the resulting brew. Wood is harvested from several species of Acacia, but mainly from Acacia catechu. Katha powder has historically been used in hair care mainly to increase hair thickness, shine, and enrich the color of hair. This natural and herbal Katha powder is certified organic. Katha powder is used to enhance hair conditioning and result in better hair shine. For better results we recommend mixing Katha powder with pure Henna powder. Katha powder is a nutrient rich product that naturally treats your hair roots and scalp. Regular use of Katha powder will help improve the strength of your hair roots.
The many health benefits of the Katha powder are as follows:
The Katha Powder is herbal which treats the scalp damages and helps hair roots.
The Katha powder acts as a conditioner and helps make hair wavy, soft, and adds shine.
Katha powder improves scalp health, and enriches hair follicles with optimum nutrients.
Dull hair is revitalized within a couple of hours of using this Acacia Catechu powder.
Individuals who want to improve the health of their hair use the brew of the Acacia wood to treat and condition their hair.
Quality: Our focus on quality is par excellence. We test our products for long term, general side effects. We've found that there are no side effects when it comes to the general population, men and women, who have been using our line of products over the last 25 years. Read More
Packaging: We currently provide pack sizes that are 50 gms, 100 gms, 500 gms, 1 Kg, 10 Kg, 15 Kgs, 20 Kgs, 50 Kgs, and also provide larger bags in bulk quantities in accordance with your needs. Read More
Private Labeling: To get your new business started and going, make sales, we can help you with our affordable full service Design, Labeling and Packaging your selection of products with us. Read More
Ask us about our Oxo-Biodegradable Plastic bags that are 100% eco-friendly. We can vacuum pack products for freshness upon clients' requirement only.