Stevia Leaves Powder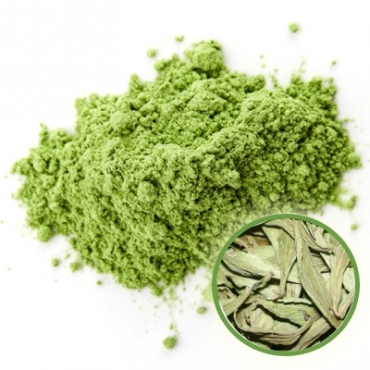 Green leaf Stevia powder is the natural alternative to regular, processed sugar. Stevia is also known as a non-sugar sweetener or unprocessed plant sugar. The unprocessed Stevia sugar is the healthy sugar substitute. Stevia is a natural, low-calorie sweetener. Stevia leaves powder is increasing in use, especially among health conscious people and those who want to shed pounds. Stevia leaves powder is sourced from natural ingredients. Stevia leaves powder has been in use for over 10 years now.
There has not been any unnatural side effects or harmful reactions to those who have been using it. It's a healthy and safe alternative for those who want to use low-calorie natural sweeteners for tea, coffee, breakfast pastries, and baked goods. The Stevia leaf powder has shown positive results in helping regulate blood sugar levels. It helps diabetics enjoy natural sugar from the Stevia plant without spiking their sugar levels in the blood. Stevia has low energy calories and carbohydrates, so using it won't increase a person's risk of getting belly fat. Sugar has about 45 calories per tablespoon, while Stevia has only 12 calories per tablespoon (12 grams). If overused, Stevia leaves powder can cause damage to the endocrine system, cause gastrointestinal discomfort, and kidney damage. It can also cause allergic reaction in certain users. However, Stevia leaves powder is safer than artificial sweeteners.
The many health benefits of the Stevia Leaves Powder are as follows:
Stevia leaves powder helps lower blood sugar levels in diabetics, and also works upon lowering cholesterol levels with regular use.
It helps fight cavities by reducing the presence of bacteria in the mouth.
It strengthens the bone health and is rich in natural nutrients.
Stevia can help manage diabetes, due to its low calories and carbohydrates.
Stevia powder can be used as a paste to apply and treat the scalp to remove dandruff.
Stevia leaves powder is shown to have positive and beneficial effects on "blood glucose and insulin levels in human studies." (Curi 1986; Gregersen, Jeppesen, Holst, & Hermansen, 2004).
Quality: Our focus on quality is par excellence. We test our products for long term, general side effects. We've found that there are no side effects when it comes to the general population, men and women, who have been using our line of products over the last 25 years. Read More
Packaging: We currently provide pack sizes that are 50 gms, 100 gms, 500 gms, 1 Kg, 10 Kg, 15 Kgs, 20 Kgs, 50 Kgs, and also provide larger bags in bulk quantities in accordance with your needs. Read More
Private Labeling: To get your new business started and going, make sales, we can help you with our affordable full service Design, Labeling and Packaging your selection of products with us. Read More
Ask us about our Oxo-Biodegradable Plastic bags that are 100% eco-friendly. We can vacuum pack products for freshness upon clients' requirement only.