Krishna Tulsi Powder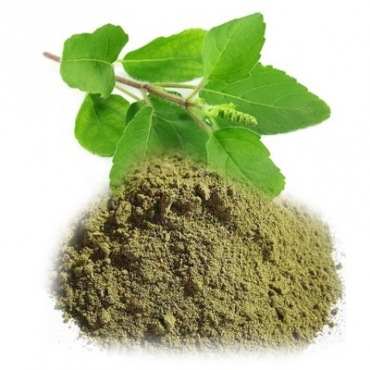 Tulsi in Sanskrit means "the incomparable one." Tulsi, is also known as Holy Basil which stands out from other herbs mainly because of the number of health benefits it offers. Besides, it is also noticeably effective in managing acute asthma. The properties of the natural ingredients provide breathing relief to asthmatic patients. The properties in Krishna Tulsi powder helps in bringing out the mucus and clear up the congestion and phlegm in respiratory tracts. This powder is rich in vitamin K and has powerful antioxidants. The Krishna Tulsi powder is great to use to treat infections of the scalp, stimulate healthy hair growth by stimulating blood circulation in the scalp, nourishing hair roots. Do not take Tulsi powder internally if you are taking diabetic medicines.
The difference between Krishna Tulsi and Rama Tulsi, is that Krishna Tulsi (Ocimum sanctum) is also known as Shayam Tulsi which has black leaves. Rama Tulsi (Ocimum sanctum) has light green colored leaves.
The many health benefits of the Krishna Tulsi Powder are as follows:
Krishna Tulsi powder is a great natural immunity booster.
It has Vitamin C and Zinc and can be mixed with honey and ginger to help breathing.
Krishna Tulsi powder face mask helps soak up the excess oils and dries up acne.
Krishna Tulsi powder can be applied as a hair paste. It prevents hair loss and banishes dandruff.
Krishna Tulsi powder has powerful antioxidants which can be used as a face mask to brighten up skin.
Krishna Tulsi powder mixed in water helps with daily bowel movements. It fights against acid refluxes and aids proper digestion. It also helps the body flush out harmful toxins.
Krishna Tulsi powder also has anti-microbial properties which can be mixed in hot water with tea powder to make herbal tea. It will help destroy harmful bacteria and germs in the mouth.
Krishna Tulsi powder mixed in water can be used to rinse your mouth. It acts as a natural mouth freshener and helps you overcome bad breath problems.
The natural organic compounds, and vitamins, in the Krishna Tulsi powder, like vitamin C, Camphene, Eugenol and Cineole can help fight and reduce any infections of the lungs.
Krishna Tulsi powder is completely herbal because it has naturally occurring vitamin C, powerful antioxidants, antiseptic and antiviral properties. It helps fight viral infections like cold, and the deadly flu, which helps your body to increase immunity and recover from such infections.
Quality: Our focus on quality is par excellence. We test our products for long term, general side effects. We've found that there are no side effects when it comes to the general population, men and women, who have been using our line of products over the last 25 years. Read More
Packaging: We currently provide pack sizes that are 50 gms, 100 gms, 500 gms, 1 Kg, 10 Kg, 15 Kgs, 20 Kgs, 50 Kgs, and also provide larger bags in bulk quantities in accordance with your needs. Read More
Private Labeling: To get your new business started and going, make sales, we can help you with our affordable full service Design, Labeling and Packaging your selection of products with us. Read More
Ask us about our Oxo-Biodegradable Plastic bags that are 100% eco-friendly. We can vacuum pack products for freshness upon clients' requirement only.