Curcuma Aromatic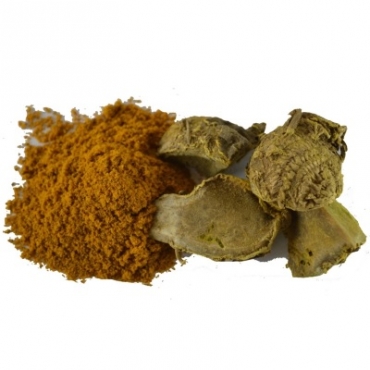 Curcuma Aromatica is called Wild Turmeric (Kasthuri Manjal in Tamil). It is a member of the genus Curcuma belonging to the family Zingiberaceae. Wild turmeric is used as a cosmetic herbal in South Asian countries, especially in India for religious and festive occasions. It is used by women in Tamilnadu, South India as a herbal cosmetic to wash and cleanse the face and body. The Wild Turmeric has medicinal properties which acts as an antifungal, and antibacterial agent, cleansing the skin. Turmeric is a natural exfoliator which helps in removing dead skin cells and leaving fresh glowing skin as a result. This powder is 100% natural and made from the roots of the plant.
Wild turmeric are rhizomes with a herbal fragrance and yellow cream color. The rhizomes are creeping root stalks. They are harvested once in 2 months and are used in cosmetic powders, ointments, oils, toothpastes, and herbal tablets. It is also used as a culinary spice to season meats, poultry, and to add flavor to any type of food.
Curcuma Aromatica is good for cleansing the scalp of all impurities. It can kill fungus and bacterial infections on the scalp. It can rejuvenate hair roots and promote hair growth. Matha Exports production house takes pride in manufacturing high quality of the Curcuma Aromatica powder.
There are several health benefits of Curcuma Aromatica:
Applying the powder on the scalp and skin helps cleanse the scalp of dandruff, impurities, and infections.
The powder contains Curcumin, a powerful anti-inflammatory and antioxidant that helps to lighten scars.
It helps reduce excessive production of melanin, which helps brighten and even skin tone.
The herbal properties help promote blood circulation, and helps fight against cancerous cells.
This powder has antimicrobial, antifungal, antioxidants, and anti tumor properties.
Quality: Our focus on quality is par excellence. We test our products for long term, general side effects. We've found that there are no side effects when it comes to the general population, men and women, who have been using our line of products over the last 25 years. Read More
Packaging: We currently provide pack sizes that are 50 gms, 100 gms, 500 gms, 1 Kg, 10 Kg, 15 Kgs, 20 Kgs, 50 Kgs, and also provide larger bags in bulk quantities in accordance with your needs. Read More
Private Labeling: To get your new business started and going, make sales, we can help you with our affordable full service Design, Labeling and Packaging your selection of products with us. Read More
Ask us about our Oxo-Biodegradable Plastic bags that are 100% eco-friendly. We can vacuum pack products for freshness upon clients' requirement only.