Bibhitaki Powder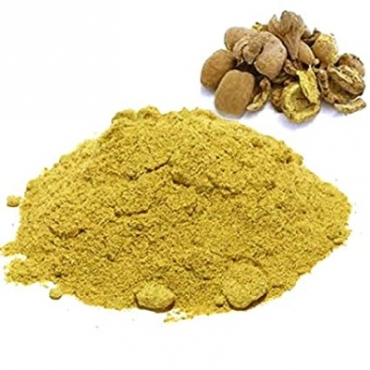 This powder is derived from a large medicinal tree that sheds its leaves each year. It holds a great value in traditional medicines like Ayurveda and Unani. In Sanskrit, it is called Vibheeta, which means the one which destroys the fear of disease. In Hindi, it is called Baheda powder. This powder is extracted from sun-dried, ground up fruits of the Baheda plant. The powder is green to light brown in color and has a nice herbal scent. It is called Triphala, which balances the three doshas in our body, Vata, Pitta, and Kapha.
The many health benefits of Bibhitaki powder are listed below:
Bibhitaki powder helps regulate body metabolism, keeping your body functioning well.
It helps alleviate stress and reduces stomach ulcers that can form due to increased stress.
It helps promote Liver health.
It helps heal wounds and skin problems, rejuvenating skin cells, and delays skin aging.
It helps in strengthening hair from root to tip making hair smooth and bouncy.
It is the best herbal powder for strengthening hair, it is used for thin, fragile hair.
Baheda powder mixed with rose water and coconut oil into a paste and applied, helps promote the growth hair and reduces dandruff on the scalp.
The powder relieves oxidative stress by balancing the PH value reducing scalp infections and boosts hair growth.
It is a good antibacterial, improves immunity by removing toxins from the body.
It relieves cough and cold, and removes hoarseness of voice due to throat infection.
It helps with body weight loss, if mixed and used as a drink. It may have laxative properties also.
Applying Baheda fruit powder with rose water on the face prevents the growth of bacteria.
Quality: Our focus on quality is par excellence. We test our products for long term, general side effects. We've found that there are no side effects when it comes to the general population, men and women, who have been using our line of products over the last 25 years. Read More
Packaging: We currently provide pack sizes that are 50 gms, 100 gms, 500 gms, 1 Kg, 10 Kg, 15 Kgs, 20 Kgs, 50 Kgs, and also provide larger bags in bulk quantities in accordance with your needs. Read More
Private Labeling: To get your new business started and going, make sales, we can help you with our affordable full service Design, Labeling and Packaging your selection of products with us. Read More
Ask us about our Oxo-Biodegradable Plastic bags that are 100% eco-friendly. We can vacuum pack products for freshness upon clients' requirement only.