Herbal Ubtan Powder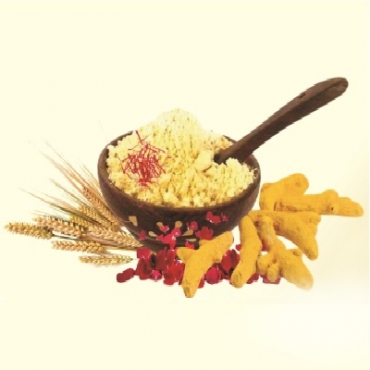 At Matha Exports, Herbal Ubtan Powder (The Royal Bath Powder) is one of the most loved and preferred products among face masks. This Ubtan mix contains Haldi, Chandan (Sandalwood), Manjistha (Indian Madder) and Khadir (Acacia Catechu), a true Vedic recipe for protection, feeding (nourishment) and beautification of your skin. People who look to get back their natural youthful appearance prefer using the Herbal Ubtan Powder on a regular basis.
The many health benefits of Ubtan Powder are as follows:
It rejuvenates the skin tone and gets back the glow on your face in a few days.
Ubtan gives the skin a clear look and removes dark spots balancing skin tone evenly.
Regular application of the herbal Ubtan powder makes you look younger.
Ubtan discourages the growth of unwanted facial hair.
Ubtan powder can be used as a mask thrice a week which helps clear Acne problems.
The Ubtan face mask helps exfoliate dead skin cells and Turmeric acts as an antiseptic.
This Ubtan face mask powder is available in different size packets for retailers with different requirements, just like our other herbal powders.
Quality: Our focus on quality is par excellence. We test our products for long term, general side effects. We've found that there are no side effects when it comes to the general population, men and women, who have been using our line of products over the last 25 years. Read More
Packaging: We currently provide pack sizes that are 50 gms, 100 gms, 500 gms, 1 Kg, 10 Kg, 15 Kgs, 20 Kgs, 50 Kgs, and also provide larger bags in bulk quantities in accordance with your needs. Read More
Private Labeling: To get your new business started and going, make sales, we can help you with our affordable full service Design, Labeling and Packaging your selection of products with us. Read More
Ask us about our Oxo-Biodegradable Plastic bags that are 100% eco-friendly. We can vacuum pack products for freshness upon clients' requirement only.