Bhringraj Powder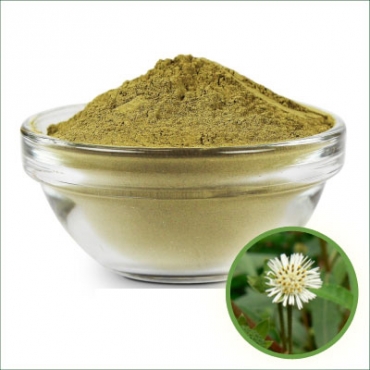 Bhringraj Powder is derived from what looks like a common weed but is a medicinal plant. It is used as a traditional medicine in South and South East Asia. It has been used in Ayurveda for hundreds of years.
The many health benefits of Bhringraj powder are listed below:
Bhringraj powder supports healthy hair growth and prevents hair loss.
It helps treats dandruff and dry scalp conditions.
The powder can be mixed into a drink which acts as a liver health tonic, kills intestinal worms, purifies the blood, and boosts healthy skin complexion.
It supports the Circulatory, Respiratory and Nervous Systems.
It helps to maintain good digestion and appetite levels, by regulating the stomach acid levels.
It also helps with good bowel movement, preventing constipation due to its laxative property.
Bhringraj powder when mixed into a paste and applied on the skin acts as an anti-inflammatory, it can help treat skin inflammation like psoriasis, dermatitis, and acne.
The Magnesium levels in the powder can have relaxant properties which helps with muscle relaxation, improve sleep, which in turn improves mood, due to better body rest.
Product Uses: Tonic, Oil, Powder, Paste, Capsules, Tablets.
Quality: Our focus on quality is par excellence. We test our products for long term, general side effects. We've found that there are no side effects when it comes to the general population, men and women, who have been using our line of products over the last 25 years. Read More
Packaging: We currently provide pack sizes that are 50 gms, 100 gms, 500 gms, 1 Kg, 10 Kg, 15 Kgs, 20 Kgs, 50 Kgs, and also provide larger bags in bulk quantities in accordance with your needs. Read More
Private Labeling: To get your new business started and going, make sales, we can help you with our affordable full service Design, Labeling and Packaging your selection of products with us. Read More
Ask us about our Oxo-Biodegradable Plastic bags that are 100% eco-friendly. We can vacuum pack products for freshness upon clients' requirement only.