Gymnema Sylvestre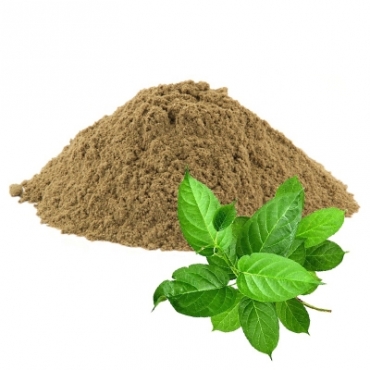 Gymnema Sylvestre is a perennial plant that is found growing in plenty in Asia, in India, Southern China, the Arabian Peninsula, Africa, and Australia. It is used in Ayurvedic medicine. People call this plant by these common names which include the Australian cowplant, Periploca of the woods, and the Hindi name, Gurmar, which means, "Sugar Destroyer". This powder is taken by people who have a terrible craving for sweets, those people who have a "sweet tooth." This powder discourages sugar absorption in the body thereby reducing sugar cravings. It makes sweets taste less appealing and therefore can be helpful to diabetic patients. Gymnema Sylvestre can be mixed in herbal or regular tea and consumed. The effects of this powder acting as a suppressant lasts for about 90 minutes.
The many health benefits of Gymnema Sylvestre are as follows:
It is 100% natural made out of Gymnema Sylvestre leaves.
Taking this powder a few times a week may help lower "bad" LDL cholesterol levels and triglycerides. Studies are showing that this power may help fat absorption and lower lipid levels.
Taking Gymnema regularly for 12 weeks can help reduce body weight.
This powder helps lower blood sugar levels and can be useful to diabetic patients.
This powder when taken regularly with herbal tea can help lower metabolic syndrome, the symptoms of which are high blood pressure, high blood sugar, excess body fat around the waist, and abnormal cholesterol levels. This metabolic syndrome increases a person's risk for heart attack and stroke.
This powder has been used for treatment of malaria, as a snake bite antidote, a digestive stimulant, as laxative, as an appetite suppressant, and a diuretic. Results of using it as a snake bite antidote are not sufficient to be conclusive.
Gymnemic acids that were isolated from the leaves of Gymnema Sylvestre help suppress cravings for sweets in humans.
Quality: Our focus on quality is par excellence. We test our products for long term, general side effects. We've found that there are no side effects when it comes to the general population, men and women, who have been using our line of products over the last 25 years. Read More
Packaging: We currently provide pack sizes that are 50 gms, 100 gms, 500 gms, 1 Kg, 10 Kg, 15 Kgs, 20 Kgs, 50 Kgs, and also provide larger bags in bulk quantities in accordance with your needs. Read More
Private Labeling: To get your new business started and going, make sales, we can help you with our affordable full service Design, Labeling and Packaging your selection of products with us. Read More
Ask us about our Oxo-Biodegradable Plastic bags that are 100% eco-friendly. We can vacuum pack products for freshness upon clients' requirement only.